Der fürstliche Aufstieg des Dark Rock-Phönix in den letzten Sonnenuntergang

Man nehme eine groovige Rockband, dazu tiefe, schwere Metal-Gitarren und kombiniere das Ganze mit modernen, elektronischen Sounds und einer markanten Stimme. Das Ergebnis ist ETTA ZERO: ein musikalischer Hybrid aus Rock, Electro, Metal und Pop. Die vier Musiker aus dem mit etwas über 30.000 Einwohnern wahrlich winzigen Fürstentum Liechtenstein kennen sich seit Jugendjahren und spielen seit Mitte der 90er Jahre in unterschiedlichen Formationen, Besetzungen und Stilarten zusammen. Dass genau diese Konstellation von allen ausprobierten Varianten nun zusammengefunden hat, ist kein Zufall. Die verschiedenen Charaktere und musikalischen Vorlieben der Bandmitglieder sorgten von Anfang an für die nötige Reibung, deren chemische Reaktion sich nun bei ETTA ZERO und ihrem am 30. Mai 2014 über Dr. Music Records erscheinenden Album The Last Of All Sunsets zu einem homogenen Mix verbindet.

Ursprünglich im Jahr 2000 unter dem Namen Downfall als Synthie Pop Metal Band gegründet, die sich zu Beginn rockigen Covers von 80ies Synth Pop Songs verschrieben hatte, wendete sich die Gruppe mit den Jahren Eigenkompositionen zu. Downfall veröffentlichte zwei EPs (eine vier Track Cover EP und eine vier Track EP mit eigenen Songs), gewann zwei Bandcontests (u.a. bei Radio Liechtenstein) mit ihrer Eigenkomposition Sorrow in der Kategorie Best Song International und spielte unzählige Konzerte in der Schweiz, Liechtenstein und Österreich, bevor sie im Oktober 2010 unter dem neuem Namen ETTA ZERO den Neuanfang wagten. Kurz nach der Umbenennung begannen ETTA ZERO mit den Aufnahmen zu ihrem Debütalbum unter der Regie von Tommy Vetterli (Eluveitie, Coroner, 69 Chambers...). Kurz nach Abschluss der Schlagzeugaufnahmen legte eine schwere Erkrankung eines Bandmitgliedes alle Aktivitäten der Gruppe für über ein Jahr auf Eis. Ein Schicksalsschlag, der die Vier nur noch enger zusammengeschweißt hat. Die Aufnahmen zu The Last Of All Sunsets wurden schliesslich Ende 2012 beendet. Das Dark Rock Album behandelt textlich die Gegensätze von Licht und Schatten, Schönheit und Tod, die bittersüße Note des Endes, welches auch immer Ursprung eines Auftaktes ist. Auf verschiedenen Ebenen wird sowohl das Ende als auch der Neuanfang sowie auch der perfekte Moment dazwischen widergespiegelt. Die sanften Klänge des Intros Something Big laden zu einer metaphorischen Reise ein, doch bereits der zweite Titel The Last Of All Sunsets lässt den Hörer durch ins Mark gehende Gesänge und derbe musikalische Untermalung aus diesem Tagtraum erwachen.

In den Songs Sorrow und All That I See verarbeiten ETTA ZERO Gefühle, wie Schmerz, Trauer und Verzweiflung über gescheiterte Beziehungen und setzen sich mit Selbstzweifeln auseinander. From The Ashes knüpft genau hier an und ermutigt mit heftigen Gitarrenriffs dazu, nach Rückschlägen wieder aufzustehen und weiterzumachen. Im Gegensatz hierzu steht der Song Heartbeats, ein Cover des schwedischen Synthie Pop Duos The Knife, das die musikalische Brücke zu ETTA ZEROs Wurzeln als Synth Pop Coverband schlägt. Mit dem letzten und längsten Song des Albums Heaven Is Closer vereinen ETTA ZERO noch einmal Alles, was sie ausmacht: herbe Gitarrensounds, eine bestechende Stimme aber auch mal sanfte elektronische Töne.

Die limitierte Erstauflage erscheint am 30. Mai 2014 über Dr. Music Records und enthält als Bonus-Track einen Remix des Titelstücks des Sybreed-Masterminds Drop.


The royal ascension of the Dark Rock phoenix into the last sunset

Take a groovy Rock band, deep and heavy Metal guitars and combine the whole thing with modern, electronical sounds and a striking voice. The outcome is ETTA ZERO: a musical hybrid of Rock, Electro, Metal and Pop. The four musicians, from the with about 30.000 inhabitants truly tiny Principality of Liechtenstein, know each other since their young years and played together in different formations, casts and styles since the middle of the 90´s. That precisely this constellation from all tried variants has now come together, is not a coincidence. The diverse characters und musical preferences of each band member, caused the required friction whose chemical reaction now in ETTA ZERO and in their album The Last Of All Sunsets, which will be released on May 30 through Dr. Music Records, connects to a homogeneous mix.

Originally the group was formed in 2000 under the name Downfall as a Synth Pop Metal band. They started with turning covered 80´s Synth Pop songs into Rock numbers, but over the years the group wrote their own compositions. Downfall published two EPs (one four track cover EP & one four track EP with their own songs), won two band contests (i.a. at Radio Liechtenstein with their own composition Sorrow in the category Best Song International) and played countless concerts in Switzerland, Liechtenstein and Austria until they finally dared a new start under the name ETTA ZERO in October 2010. Briefly after their renaming, ETTA ZERO began with the recordings of their debut album under the direction of Tommy Vetterli (Eluveitie, Coroner, 69 Chambers...). After finishing the drum recordings, a serious illness of one of the band members put the activities of the group off for over one year. A stroke of fate, which only welded the four closer together. The recordings for The Last Of All Sunsets were finally finished at the end of 2012. The lyrics of the Dark Rock album deal with the contradictions of light and shadow, beauty and death, the bittersweet note of the end, which is always the origin of a prelude, too. On various levels it reflects both the end and the recommencement as well as the perfect moment in between. The soft sounds of the intro Something Big invite to a metaphorical journey, but already the second title The Last Of All Sunsets awakes the listener from his daydream with a voice that gets under your skin and rough musical background.

In the songs Sorrow and All That I See ETTA ZERO assimilate emotions like pain, mourning and despair about failed relationships and fight with self-doubts. From The Ashes ties up to this content and with fierce guitar riffs it encourages to get up again after setbacks. A contrast to this is the song Heartbeats, a cover of the Swedish Synth Pop duo The Knife, which builds the musical bridge to ETTA ZEROs roots as a Synth Pop cover band. With the last and longest song of the album Heaven Is Closer ETTA ZERO once again combine everything that constitutes them: harsh guitar sounds, a fascinating voice but also soft, electronic sounds.

The limited first edition will be released on May 30 through Dr. Music Records and includes a Remix of the title song by Sybreed mastermind Drop as a bonus track!

Die obige Biografie kann in der Download-Sektion als PDF-File heruntergeladen werden.

+++
Nächstes Konzert: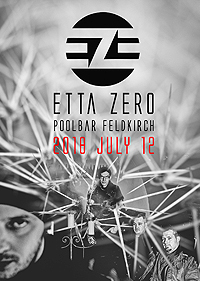 12.07.2018
A / Feldkirch
mehr Infos


+++
Label & Promotion:

DR. MUSIC RECORDS |
DR. MUSIC PROMOTION
Miriam Guigueno &
Torsten Wohlgemuth GbR
Blumenstrasse 5
58097 Hagen, Germany

Phone: +49-(0)2331-127-4625
Fax: +49-(0)2331-127-4624



www.dr-music-promotion.de
+++

Postanschrift:

ETTA ZERO
c/o Manyfaced Entertainment
Postfach 59
9486 Schaanwald
Fürstentum Liechtenstein
+++
+++